Last weekend our CEO, Christian Gleave, attended The Advantage Conference in Cadiz, Spain in celebration of the partnerships 40th year. The Advantage Travel Partnership is the UK's largest independent travel group. The business and leisure travel companies who are part of the group are each independently owned, but as a collective produce over £4.5bn of travel sales each year.
The Advantage Conference is a key date in the travel industry calendar and is a great opportunity to network and engage with over 400 leading travel suppliers and like-minded travel professionals.
During the conference, Christian attended multiple business travel-related seminars focusing on key current and emerging trends being driven by technology, specifically Artificial Intelligence. With an increased demand for self-booking capabilities within the business travel industry, AI will aid customised recommendations to meet individual travellers expectations by identifying their unique preferences.
The Keynote speaker, Ant Middleton (Channel 4's SAS: Who Dares Wins) provided a passionate speech about how the mind can overcome any obstacle and how a fresh perspective can achieve success, an important mindset for any business owner.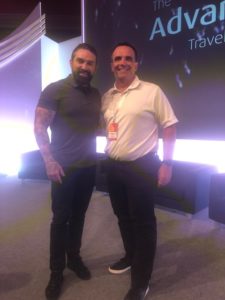 The annual conference provides an opportunity to discuss pertinent travel topics and gather information from a range of experts which helps shape the future of the business travel industry with active engagement from suppliers and TMC's alike.
Christian looks forward to attending The Advantage Conference again in 2020.