Air Travel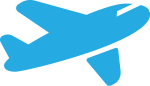 Our airline booking platform is completely different to any others on the market.
From the moment our clients contact us, we are able to access the best value air fares for travel originating in across 70 countries worldwide providing us with the ability to benchmark against other available fares.
We tailor our system to our clients' needs. This includes use of airline loyalty cards and sharing booking details and e-tickets with PAs.
Rail Travel

We know that flexibility is key when it comes to rail travel, so we offer our clients complete control.
Our online booking platform, Evolvi, is fully integrated into client policies and invoicing – with travel preferences saved for optimum ease.
Clients can also choose how they wish to receive their tickets. This includes the option for us to install a ticket machine in the office of clients with high travel spend.
The result? Stress free rail travel that allows productivity to skyrocket.
Hotels

From five-star luxury to great value hotels on a budget, we make finding accommodation simple.
Bookings can be made directly through our consultants or via our secure online portal, which is linked to our Global Distribution System.
Whether clients book online or offline, we make use of corporate preferential rates to obtain the best prices. Invoicing is bespoke to client needs, ensuring the receipt of full management information that assists companies to track multiple bookings.
Car Hire

Whether clients wish to speak with one of our consultants or utilise our bespoke online portal, we will organise their business car hire and accommodate any corporate preferential rates.
We ensure that clients get the highest quality product by working with well-established car hire brands including Hertz and Avis who pride themselves on outstanding customer service.
We understand the importance of transparent costing accountability for clients' finance departments. Our bespoke service ensures that all costs are accounted for, with a comprehensive report covering who has used which service.
Groups

From organising travel and accommodation for educational, sporting and corporate excursions, to orchestrating full itineraries we have the knowledge and experience to ensure your trip has no bumps in the road.
We understand the pressures experienced by clients when organising out of this world trips, with budget and traveller safety being primary concerns. Our advisors will liaise with you to provide a bespoke service catering to the needs of each traveller while working within an agreed price range.
MICE

Review Travel has the expertise to organise a smooth, worry-free experience whether a large group of colleagues is jetting off on an incentive trip or assisting a client with the co-ordination of a conference for hundreds of delegates, meetings or exhibitions.
We understand the pressures that companies face when organising arrangements for a large number of employees, and our experienced advisors will ensure that both budget and overall customer satisfaction are prioritised.
Important Extras

The Review Travel service does not stop at air and rail travel. Our flexible approach incorporates private charters, ferry travel and airport pick-ups.
We ensure that clients get the highest quality product by working with well-established partners who pride themselves on outstanding customer service.
Our aim is always to provide the best service possible. Whatever our clients' requirements, we strive to make travel fuss free.